To some people, cars are more than the objects to drive. If you ask car-lovers, their cars are more like a pet animal staying just beside your house. But, have you ever witnessed a car which can fly, swim, stand or scare? No? Let us show you some of the most unusual, weird and out of the box cars of the World. Notice: It can blow off your mind or just give you a surprise attack.
1. Double car:
Say hello to this dream car of the World upside down. Is it a toy?
2. Bread Race-car:
When I was a child, I used to imagine food cars all over my food-table. So finally a dream came true; Formula One model race-car made out of bread. Go foodies! Drive and eat.
3. Shoe car:
I bet you would be beating your head on the wall right now.  Presenting you one of the most weird cars of the World; a laced-up brown leather shoe with wheels. (shoe as car or car as shoe? )
4. Post-It Jaguar:
What else can be a better place to write than a car? A car full of sticky notes is all I wanted; won't need my sticky notes pad now. Write anywhere, read anywhere!
5.  Photo camera car:
The first thing that came to my mind was: a car well-suited for the media groups. No need of those hefty dishes and dozens of cameras now. Get this camera car and get it covered!
6. Ship car:
This is what you end up when you cannot afford both; a car and ship.  Buy one, get one free. Double treat indeed!
7. Bat-winged car:
I wonder what batman would be thinking about this bat-mobile. Embarrassed? Well, batman is no more a fantasy to me now. Drive or fly!
8. Ferrari car motorcycle:
Never knew that my problem would be solved that easily. Heavy bike and a car, all at once and in one package. So, again, what do you want? Car, motor-bike or both?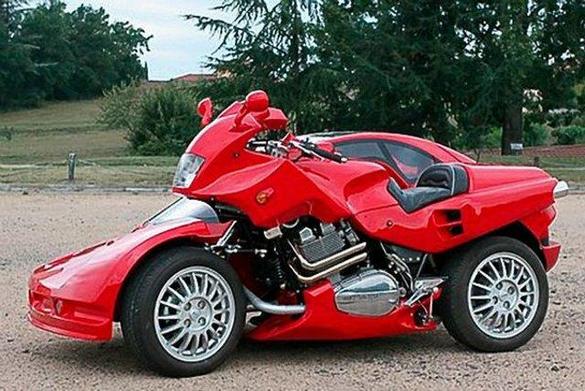 9. Banana car:
Imagine a banana with two wheels running on the road. Funny? Not anymore. This car is actually shaped like a banana. You will believe once you see it. Mommy I want to drive a banana!
10. Toy car:
This car next on the list is every kid's dream. A car loaded with a dozens of stuff toys moving on the road is nothing but a piece of art.
11. Spider car:
It might seem to you like a shot from movie but it isn't. This spider car is real weirdo in the family of unusual cars. Run until you can!
12. Swimming car:
Time to leave Earth right now! This car on the list can drive and dive but in the sea. It is the Rinspeed Squba;Lotus Elise Submarine. Future is here!
13. Plane car:
It was considered an odd thought if a plane could run on the road. This car cannot fly but seems like a walking plane to me. Want a plane car?
14. Jack car:
Is this a car in a car-repair shop or is it just a lucid dream? Half car up and half down. Mechanic must have forgotten to repair the car completely.
15. Pyramid car:
Art of Egyptian pyramids is not restricted to Egypt now. This car is a moving Egyptian pyramid running on the road. Imagine a pyramid running on the road with you inside. Strange enough!
Which one of the above weirdos are you going to buy? Share with us in the comments below.