Introduction and ambience:  TFL, The Food Lounge is located at, Door No. – 36-11-7/A, Shanti Nagar 1st line, Jammi Chettu Center, Mughal Raj Puram, Vijayawada. Jump in anytime between 10AM-11PM. The place has simply just got the best ambience you can find in the entire town. It will make you want to spend more time there. Do I need to say more?
Service: You may find them a bit slow, comparing to the quick food places, but they make fresh and hot food, which makes it worth the wait. Have sufficient time when you plan to visit. The service is pretty good, servers are attentive.Wait time for food is nearly 15mins~.
Food: The cappuccino you find there is decent. You are going to find a few amazing lunch combos. The biggest surprise is the variety they offer on green tea. There are more than six types of green tea as shown in the image below. You will definitely like pepper green tea and berry green tea.  The desserts are also worth giving a try. The mushrooms we ordered, were yum!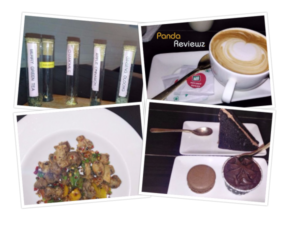 Value for money: It is slightly expensive but the food is worth it and makes you happy. 
Panda's recommendation: If you are a mushroom lover do go for mushroom stir fry. You won't get the same taste anywhere in the town. It's super yummy, crispy and dry. The veg bruschetta is cheesy and full of veggies that you are going to love. Want something cool? There you go the raspberry ice tea is meant for you. For desserts, Panda is confused. Macarons, chocolate sandwich and chocolate cup cake each of them tastes good. Go for all of them so that you don't miss something amazing.
Happiness meter: Everything looks perfect. You will find it a nice place to visit. The desserts are a bliss, the child within you is going to love those. 
[yasr_visitor_votes size="small"]
Review of TFL- The Food Lounge,Vijayawada
Pros
Amazing Ambience, best in the town
Centrally located
Deserts are fresh and are made by a well experienced chef who worked for Queen in London :), Woah.
Green teas, definitely cannot find such yummy varieties in the city.
Cons
The presentation for the food could have been better, more visually appealing.
The service can be improved